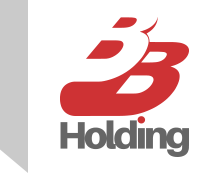 Bbholding welcomes your interest in employment opportunities.
A career with Bbholding is more than just a day job. It is an opportunity to join a dynamic team and a company who tackle real world challenges. Joining Bbholding means getting more out of your working life than you thought possible.
Bbholding is a dynamic, exciting place to work. We hire exceptional people, and every one of them is empowered to think independently, take initiative and be innovative
We know that what makes our company unique is our staff, the people who share our beliefs and principles and who work constantly to stretch Bbholding to the next levels.
If you want to bring in your talent, experience and professionalism to an organization that is highly dependent on the contribution and commitment of every individual within a leading team, And if you want to share our values and want to show your enthusiasm and use your talent in one of our teams, then GO AHEAD and send your updated CV and personal photo to HR@Bbholding.org.